VINYASA FLOW W BETH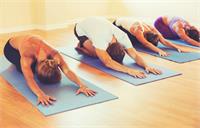 Vinyasa is the synchronization of breath with movement, and all postures are linked together in a continuous flow. This fun engaging class builds strength, tones and detoxifies and teaches the fundamentals of Vinyasa Yoga – including sun salutations, standing poses, balancing postures, seated and reclining poses, back-bends, and twists and a strong emphasis on core isolation. The flow of the practice with the breath bring together the internal and the external prana, or energy found within the breath, and leaves the students feeling energized, centered and more connected with their Higher Self. Appropriate for students of all levels as modifications will be offered by the teacher accordingly.
YOGA LENGTHEN & DEFINE
Open level yoga for students of all levels and experiences. This class offers modifications to newer students and challenging postures to more advanced ones. This is a dynamic class that focuses on the combination of linking breath to movement.
YOGA, YIN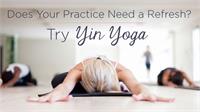 This class taught by Donna IS 75 minutes. The perfect complement to your dynamic (yang) yoga practices and busy city life! Yin yoga applies emphasis to slowing down and holding passive stretch-like postures. Focusing on long-held passive floor poses combined with breath work and meditation, this healing practice targets the deep and dense connective tissues of the body, such as the ligaments, tendons, cartilage, and fascia, increasing circulation and flexibility. Yin Yoga addresses these areas of the body that are not exercised in a more active style of asana practice, and helps students not only to open the body, but also to cultivate a meditative component of practice. All levels are welcome!
YOGA: HATHA FLOW W DILA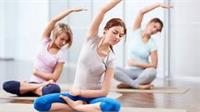 This open level class will include breathing practices (pranayama) and postures (asana) that will strengthen, stretch and align the body to promote balance and flexibility. Meditation and deep relaxation will be incorporated into each class. Students will be encouraged to connect to deeper aspects of yoga through the breath and physical practice. You will leave feeling rejuvenated – both mentally and physically; experiencing the unique connection of body, mind and soul
CHAKRA YOGA
Instructor Donna teaches this amazing class (all levels) – – – Rooted in the wisdom of the chakras, this style of yoga balances energetic & physical instabilities through a wide spectrum of asanas, meditations, chanting, aromatherapy & visualizations. Tastes of Iyengar, Kundalini, Ashtanga, Yin, and Restorative grace every class.